Justin Timberlake The 20/20 Experience at the Jobing.com Arena, August 9th!!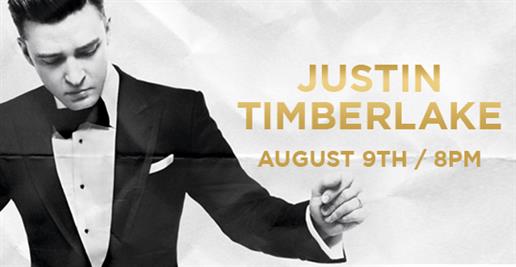 Justin Timberlake - The 20/20 Experience
Aug 9, 2014 (Sat) 8:00 PM
Jobing.com Arena
"Timberlake is a complete-package pop figure like no one else in the game right now, standing head and shoulders above his peers – especially on stage, where he indeed can do no wrong."
- The OC Register
"2013 has been the year of Justin Timberlake - The 20/20 Experience World Tour, a massive blowout featuring elaborate choreography…, a light and laser show grand enough to rival "The Wall," and arrangements that stretched rubbery grooves to the snapping point."
- The Star-Ledger
In addition to gracing the cover of GQ's Man of The Year, Timberlake recently took home three American Music Awards including Favorite Pop/Rock Male Artist. The 20/20 Experience, has been critically well received and is the year's best selling album with over 4 million sold to date worldwide. The album marks Timberlake with the biggest male debut in five years as well as the biggest digital debut in U.S. history by a male artist. The 20/20 Experience held the #1 spot in both the Top 200 (3 weeks) and R&B album chart (10 weeks). In just its first week of release all 10 tracks charted on the digital songs chart and have sold over 7 million tracks in the US. The album has reached platinum status in three other countries as well as gold status in nine other countries tracks.
Tickets available at ticketmaster.com