Greg + Mere's Ghost Story of the Day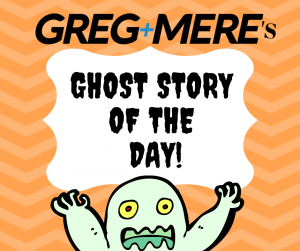 We are all spooked out for Halloween. So many scary stories that have happened right here in the Tucson area! Ready to get creeped out? Take a listen below:
(send us your ghost story to gregandmere@mixfm.com)
The DM Boneyard is scary! And, it's a creepy one.
Listener Arnold told us about the ghost he saw in Vail at the old X-9 ranch house.
Listener Email! Paul has a super creepy ghost story that happened when he was a teenager in Benson.
A Downtown Tucson landmark that USED TO BE the Santa Rita Hotel! Confirmed as  one of the most haunted places in the US.
Creepiest haunted restaurant story EVER in Flagstaff! 
The TERROR on Mt. Lemmon!
Bed shaking freakiness! Wait until you find out what happened where this house was!
What did Greg's friend see floating above him in the middle of the night?!??!?!?!?
Southern Arizona haunting while riding a horse! The spirit moved houses.
Greg's brother saw something inside a HAUNTED firehouse. A little girl runs around the hallways…so CREEPY!
Abuelita in the attic! Their family passed on and never left the house. You need to listen to this story.
When you wake up to a GHOST on the edge of your bed!
A local Tucson school haunted by a little boy!
UA haunting in the Modern Languages Building!
Haunted house in MIDTOWN! A little 6 year old boy can't find his way.
Local ghost story who likes to move their belonging ALL THE TIME.
Little kids see ghosts. ALL. THE. TIME!
Haunting at the Pima Air and Space Museum. A ghost hunter tells ALL.
Haunted HOTEL CONGRESS! We even played OIUJA.
Tucson is haunted by a famous serial killer!