Que Pasa will be back soon!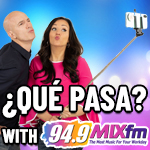 Now more than ever, Tucson has a lot going on! Greg + Mere put together the weekend events calendar and run through the highlights, Friday mornings at 6:10am and 7:10am.
QUE PASA WILL BE BACK SOON!
Thanks for checking in! We are socially distancing ourselves and trying to do our part in keeping this world healthy. We will be back with Que Pasa's weekend events as soon as we can! Keep healthy and hopefully we will get thru this sooner than later. We miss you!