Que Pasa This Weekend in Tucson, January 17th-20th.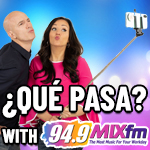 Now more than ever, Tucson has a lot going on! Greg + Mere put together the weekend events calendar and run through the highlights, Friday mornings at 6:10am and 7:10am.
QUE PASA FOR WEEKEND OF JANUARY 17th-19th
Tucson Jazz Festival– FRIDAY/SATURDAY/SUNDAY.  (TONIGHT @7:30PM Rialto AFRO-CUBAN ALL STARS @ Rialto Theatre)LIST OF EVENTS: http://tucsonjazzfestival.org/calendar/action~oneday/exact_date~17-1-2020/
Not Burnt Out Just Unscrewed! Family-Friendly Improv – FRIDAY/SATURDAY 7:30PM. They will take your suggestions and turn them into comedy scenes and games that are seen once then never again. Plus we'll keep it clean – so the whole family can enjoy the night together! Unscrewed Theater, 4500 E Speedway Blvd. #39. www.unscrewedtheater.org
All Right Now Dance Party! – 7:00PM The Rillito River Band is comprised of long time Tucsonans whose musical roots are steeped in rock n' roll, folk- rock and folk music. The Gaslight Music Hall 13005 N Oracle Rd. at Rancho Vistoso Blvd, Oro Valley. www.gaslightmusichall.com
UofA Wildcat Hockey vs. Missouri State (Pucks & Paws) – FRIDAY/SATURDAY 7:30PM. Well-behaved and vaccinated dogs are welcome! Doggie tickets are ONLY $5 at the door and all proceeds go to help the homeless pets at HSSA. Tucson Arena 260 S Church Ave.
SATURDAY
Kitten Yoga Fundraiser – SATURDAY 9:30AM. 2 Times: 9:30AM and 11AM Join us for beginners yoga while kittens run and play! Part of the proceeds will go to Southern Arizona Cat Rescue. Catalina Brewing Company 6918 N. Camino Martin 
Tucson Girls Chorus Open House & Information Session – SATURDAY 10AM-11:30AM. Enrollment is open to girls in Kindergarten to High School who have a passion for singing and would like to learn music in a rehearsal setting. Tucson Girls Chorus 4020 E River Rd.
Zoom Zoom! – SATURDAY 10AM-2PM. From the humble bicycle to giant construction trucks and zippy go-carts, they will have it all! Police vehicles, city buses, and garbage trucks. Check out Tucson Electric Power's bucket trucks, or see how Caterpillar digs in the ground. Museum is free all day. Children's Museum Tucson 200 S 6th Ave.
La Encantada Fine Art Festival – SATURDAY/SUNDAY 10AM-5PM. From metalwork to locally-designed fashion, this is sure to be a visual surprise for all ages/La Encantada Shopping Center 2905 E Skyline Dr. www.saaca.org/laefineart
Kids Dollar Days – SATURDAY/SUNDAY/MONDAY 10AM-5PM. Open for the Martin Luther King Jr. three-day weekend at Old Tucson with $1 admission for all kids ages 11 and under! Old Tucson 201 S Kinney Rd.
Tucson Japanese Festival (Year of the Rat) – SATURDAY 11AM-3PM. Learn about Japanese cultural activities such as the tea ceremony, origami, children's games, martial art demos, taiko drumming/mochi pounding (from rice), and more! Tucson Chinese Cultural Center 1288 W. River Rd. www.southernazjapan.org
UofA Men's Basketball vs. Colorado – SATURDAY 12:30PM. UofA McKale Center 1 National Championship Dr.
Onesie Bar Crawl – Tucson – SATURDAY 4:00PM – 10:00PM. www.crawlwith.us/tucson/onesie
Dillinger Days Speakeasy – SATURDAY 6:00PM – 9:00PM. Travel back to the 1930's-Celebrate the first night of Dillinger Day's weekend with whiskey tasting, delicious appetizers, live music, whiskey tasting, premium cigars, a live gun show, era related entertainment and historic fun! Proceeds go to the Greater Tucson Fire Foundation. Club Congress 311 E Congress St.
SUNDAY
Dillinger Days Reenactments – SUNDAY 10AM-5PM. The 2020 Dillinger Days family-friendly festivities include three Dillinger's capture reenactments (11AM, 1:15PM & 3:30PM) historical artifacts exhibit featuring the actual Tommy Gun, vintage car show, historic lectures, historical walking tours of downtown, and Local First Arizona Roadshow featuring great local vendors! Free and open to the public! Hotel Congress 311 E Congress St.
Family Skate Night – SUNDAY 6PM-9PM. Skate Country 7980 E. 22nd St 298-4409
MONDAY
Selma – Free MLK Day Screening 7:30PM. Celebrate Martin Luther King, Jr. Day with a free screening of Ava DuVernay's Oscar-winning drama, Selma! Selma is the story of a movement. The film chronicles the tumultuous three-month period in 1965, when Dr. Martin Luther King, Jr. led a dangerous campaign to secure equal voting rights in the face of violent opposition. Because this is a free screening there are no advance tickets,  but tickets may be picked up at The Loft Cinema on the day of the screening. Limit two per person. The Loft Cinema 3233 E. Speedway Blvd.