Que Pasa This Weekend in Tucson,Friday February 21st-Sunday February 23rd.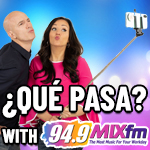 Now more than ever, Tucson has a lot going on! Greg + Mere put together the weekend events calendar and run through the highlights, Friday mornings at 6:10am and 7:10am.
QUE PASA FOR WEEKEND OF Friday February 21st—Sunday February 23rd.
FRIDAY
Not Burnt Out Just Unscrewed! Family-Friendly Improv – FRIDAY/SATURDAY 7:30PM. They will take your suggestions and turn them into comedy scenes and games that are seen once then never again. Plus we'll keep it clean – so the whole family can enjoy the night together! Unscrewed Theater, 4500 E Speedway Blvd. #39. www.unscrewedtheater.org
Asian Lantern Festival 2020 – FRIDAY/SATURDAY/SUNDAY 6PM- 9PM. Reid Park Zoo is the place to be where they are bringing over 400 colorful, customized lantern displays to Southern Arizona! This event that will transport you across the world with Asian-inspired entertainment, cuisine, and culture. Reid Park Zoo 3400 Zoo Court.
Family Fun Days – Carnival – FRIDAY 9AM-12PM. Celebrating carnival, family style! It is Tucson's version of the Rio Carnival and where there everyone is partying in the garden. Complete with masks, costumes, samba, and a parade! Promoting the cultural understanding of the Rio de Janiero tradition. This family-friendly event is Free! Tucson Botanical Gardens 2150 N. Alvernon Way.
La Fiesta de los Vaqueros-Tucson Rodeo – FRIDAY/SATURDAY/SUNDAY 12:30PM. 4 to 6 year olds RAM Mutton Bustin', 6 to 15 year old cowboys and cowgirls competing in the Justin Junior Rodeo! Pro Rodeo kicks off at 2PM and includes bareback riding, steer wrestling, saddle bronc riding, tie-down roping, team roping, women's barrel racing and bull riding! Tucson Rodeo Grounds 4823 S. Sixth Ave. (Gates Open 11AM)
Rodeo Night 2020 – FRIDAY 5PM-8PM. Therapeutic Ranch for Animals and Kids (TRAK) will be at Rodeo Night with a petting zoo and horse rides! Plus food and fun western activities for kids. Trail Dust Town 6541 E Tanque Verde Rd.
Tucson Roadrunners Hockey vs. Stockton Heat (Rodeo Night, 1, 2, 3 Night) – FRIDAY 7PM. Throw on your Cowboy hat and Roadrunners jersey! Meet some rodeo riders, too. Tucson Convention Center-Arena 260 S Church Ave.
42nd Quilt Fiesta – FRIDAY/SATURDAY/SUNDAY 9AM-5PM. Feb. 21st-23rd. Presented by the Tucson Quilters Guild. Hundreds of beautiful quilts made by guild members, vendors, demos, opportunity quilt drawing, opportunity gift baskets and more. Tucson Convention Center 260 S. Church Ave.
SATURDAY
Donut Bar Tucson (GRAND OPENING) – SATURDAY 8am-5pm. Get your eat on with red velvet cinnamon rolls, Oreo, Nutella and Pop Tart stuffed donuts, grilled cheese donuts AND MORE. YUMMMMM. Doors open at 8AM. Get your spot in line to be the FIRST in Tucson to try the World's Most Award-Winning Donuts! DONUTS and balloons for the kiddos. Face painting. Tucson Roadrunners cheerleaders AND Dusty the Roadrunner. AND MORE!.  Near 6th and Congress. 33 N 6th Ave, Tucson, AZ 85701
The Cat Video Fest 2020 – 2PM-3:15PM. Hey cat fans, and cat video watchers! Time for some major feline fun! Watch kooky kitty videos on the big screen, and help raise money for local cats in need! Benefiting the Hermitage No-Kill Cat Shelter and the HOPE Animal Shelter! The Loft Cinema 3233 E. Speedway Blvd.
Tucson Roadrunners Hockey vs. Stockton Heat (Youth Jersey Giveaway, Beach Night) – SATURDAY 7PM. The first 1,000 kids ages 14 and under will receive a free Roadrunners Youth Jersey! 260 S. Church Avenue. Tucson Convention Center-Arena 260 S Church Ave. 
UofA Men's Basketball vs. Oregon – SATURDAY 8PM. UofA McKale Center 1 National Championship Dr.
SUNDAY
Live Horse Racing – SUNDAY 10AM-6PM. Rillito Regional Park 4502 N. 1st Ave. (Gates Open 10AM)
Open House at the Gadsden Pacific Toy Train Museum. SUNDAY12:30PM – 4:30PM. Admission is free! The family will love the 8 different sized train layouts within the big building,  big outdoor layout that grows out of the ground, our real caboose, and a ride on train that goes round the property two times! Kid friendly and they have a special kiddie area where the kiddos can have hands on or pushbutton fun with trains! The Gadsden-Pacific Division Toy Train Operating Museum 3975 N. Miller Ave.
Family Skate Night – SUNDAY 6PM-9PM. Skate Country, 7980 E. 22nd St