Que Pasa This Weekend in Tucson, September 13th-15th 2019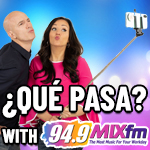 Now more than ever, Tucson has a lot going on! Greg + Mere put together the weekend events calendar and run through the highlights, Friday mornings at 6:10am and 7:10am.
QUE PASA FOR WEEKEND OF SEPTEMBER 13-15TH
Bear Down Friday! – FRIDAY 4-7pm
Free & Open to the Public. Catch the UA spirit every Friday before home football games when Zona Zoo and Main Gate Square host Bear Down Fridays from 4-7PM. Join the community as we cheer on our football team. Pep rallies begin at 6PM. And of course, the Pride of Arizona marching band. Bring the kids to see Wilbur and Wilma. UA cheerleaders, the pom squad, and twirlers. Even UofA coaches will make guest appearances at each pep rally. Happy hour specials at area restaurants and patios adjacent to the pep rally as well as the Junior Cats Activity Zone for kids! Free Parking In the Tyndall Garage after 4 PM with a Merchant Validation. Main Gate Square 814 E University Blvd. 
Friday Planetarium Shows – FRIDAY 4-10pm
Tucson Sky & Beyond. Life Beyond Earth: The Search for Undiscovered Worlds. Solar System: Gas Giants Edition. Great White Shark. Laser Stranger Things. Pink Floyd's The Wall Fulldome. Flandrau Science Center & Planetarium 1601 E University Blvd.
Not Burnt Out Just Unscrewed! Family-Friendly Improv – FRIDAY 7:30pm, SATURDAY 7:30pm
The cast takes audience suggestions and turns them into comedy scenes and games that are seen once then never again! Unscrewed Theater 4500 E Speedway Blvd. #39 www.unscrewedtheater.org
009 Licence to Thrill! – FRI., SAT. (6 & 8:30pm), SUN. (3pm & 6pm)
Secret Agent, Alex Starr, travels the globe fighting evil, meeting beautiful women, and singing songs! After infiltrating the gang of criminal mastermind, Victor Vector, and his sinister henchwoman, Venus, Starr must thwart their evil plans for world domination! Hilarious and always fun: The Gaslight Theatre 7010 E. Broadway Blvd. 886-9428 www.TheGaslightTheatre.com
Tucson Symphony Orchestra Just for Kids "Emily and the Ghost Flute" – SATURDAY 10& 11:15AM. Filled with discovery, storytelling and a front row experience, our interactive ensemble concerts entertain, engage and educate our youngest listeners. Tucson Symphony Center 2175 N 6th Ave. FREE

Loft Jr. "Harry and the Hendersons" (PG) – SATURDAY 10:00AM
(1987) A friendly Bigfoot named Harry finds a human family to love and things are going to get pretty hairy in this big-footed, big-hearted '80s comedy/adventure! Pre-show activities hosted by Mildred & Dildred Toy Store starting at 9:15AM! The Loft Cinema 3233 E. Speedway Blvd. (Free Admission)
Tucson Go Red for Women Luncheon – SATURDAY 11:10AM                                                                                Did you know women can experience heart attack symptoms differently than men? Join us at JW Marriott Tucson Starr Pass Resort & Spa & help us fight the No. 1 killer of women–heart disease. To purchase tickets, visit http://spr.ly/6188ECTMs. #TUCGoRed #TUCLiveRed
Dennis Quaid and the Sharks Benefit Concert – SATURDAY 3PM                                                                    Part of your ticket cost goes to the participating charity of your choice. No coolers or outside food or drinks permitted. No pets allowed. Bring folding chairs or blankets for lawn seating and center stage. Tubac Golf Resort and Spa www.ggvcf.org/np_buttons.html
Making Strides Against Breast Cancer BBQ Dinner! – SATURDAY 4-8PM
Survivors, bring your support system and celebrate survivorship with a delicious barbecue, games & jumper for the kids! Will be held at American Cancer Society 2015 W. River Road @ La Cholla. Call Alexis Cassidy to RSVP at TucsonAZStrides@cancer.org or 320-6382.
Tucson Premium Outlets Concert Series – SATURDAY 5:00PM – 8:00PM
Shop and listen to live music! Variety show that'll rock your socks off! Presented by www.SAACA.org Free Admission. Guests are invited to bring their own chairs. Limited seating is provided. Concerts are three 45 minute sets. Tucson Premium Outlets-Mountain Court 6401 Marana Center Blvd. SAACA Shop and listen to live music!
2nd Saturdays Downtown Tucson – SATURDAY 5PM-10PM
A monthly family-friendly event to celebrate all things uniquely Tucson including our Downtown businesses and restaurants, local musicians on stage, lively street performers and entertainment, and lots of Tucson artisan and food vendors. Downtown Tucson 125 E Congress St.
That 70's Rock Show – SATURDAY 6PM.                                                                                                                          Get down with the coolest songs from an amazing decade… the 70's! Elton John, 3 Dog Night, Billy Joel, Cher, Steely Dan, Carole King, The Doobie Brothers, and TONS more! All the hits from the #1 artists!  The Gaslight Music Theater. 13005 N. Oracle Rd. at Rancho Vistoso Blvd-Oro Valley www.gaslightmusichall.com
Grease Sing-A-Long! – SATURDAY 7:30PM                                                                                                                    Hey Pink Ladies! Come to the Grease Sing-A-Long! Welcome back to Rydell High for this electrifyin' sing-a-long! There will be onscreen lyrics, Grease Goodie Bags filled with fun interactive props, a Rockin' Rydell Costume Contest and a few boss surprises! The Loft Cinema 3233 E. Speedway Blvd.
UofA WildCats Football vs. Texas Tech (WHITE OUT) – SATURDAY  7:30PM                                               Be sure to wear white and help us create an intimidating atmosphere at Arizona Stadium! UofA Arizona Stadium 1 National Championship Dr.
Free Concert "Under the Stars" – SUNDAY 7:00PM
Presented by Tucson Pops Orchestra/Guest Conductor Khris Dodge will conduct the first half of the concert. The Tucson Boys Chorus under the direction of Dr. Julian Ackerly will perform a medley of their most popular songs including Rider in the Sky, Ain't Gonna Let Nobody Turn Me Around and more! DeMeester Outdoor Performance in Reid Park-located off Country Club just north of 22nd St.
Family Skate Night – SUNDAY 6-9pm                                                                                                                            Skate Country 7980 E. 22nd St.